Nursery Provision
The Mead Nursery
Here at The Mead Infant and Nursery School we are passionate about early years education. We understand how important a good start is, laying the foundations to future learning and well-being. As you enter our Nursery environments, you will experience a nurturing atmosphere mixed with the excitement of learning. It is clear to see that our children are happy, excited and independent learners who are 'Proud to belong' to the Mead family.

Our Nursery Setting
Both Nursery classes have large, bright classrooms, their facilities and access to an outside area that is shared across both Nursery classes, all based within the main school site. Play is at the heart of our learning, where children are able to be hands-on in their learning and our Nursery reflects this. Our environment, inside and outside, has been carefully designed for the children to be as independent as possible from an early age, where our continuous provision reflects the children's interests and needs. The children are encouraged to make decisions about their learning and great emphasis is put on child led learning, where the adults skilfully challenge learning and the development of key skills.
Our Nursery Team
Our caring Nursery team is led by experienced teachers who are specialists in early years education, ensuring that high quality learning and experiences are delivered to each and every child. As a team we are driven by how children learn and maximising their time with us so that they can reach their potential every day. As a bridge from home to Nursery, we ensure each child has a consistent relationship with a key worker who will be responsible for ensuring a smooth transition from home.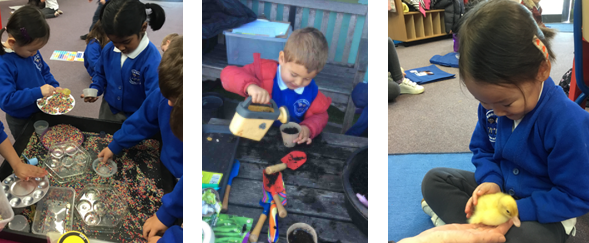 Transition from home
The first step in finding out about your child is you! We understand that each child is unique and will have different interests, needs and home life. We offer several ways to gain a good understanding of your child and to develop positive relationships with you and your child before they start with us.
During the summer term before your child starts Nursery we ask you to complete an 'All about me' form. This will provide us with key information so that we can start preparing for your child to settle and be happy.
Stay and play sessions in small groups are usually offered to enable your child to familiarise themselves with the Nursery environment and adults, with the comfort of a familiar adult accompanying them.
Closer to the time of starting we offer home or class visits to ensure time is given for face to face conversations about your child and how we can help them settle. This gives us a chance to meet your child and start positive relationships with a familiar adult nearby.
Structure of our Nursery classes
15 hour nursery places
Our 15 hour nursery places are offered in the mornings, Monday to Friday, term time only. Session times from September 2021 will be 9am- 12pm.
These 15 hour places are fully funded as all 3 and 4 years in England currently receive 15 hours of government funded early education (for up to 38 weeks a year). This is a universal offer and is available to all children regardless of their family circumstances.
30 hour nursery places
Our 30 hour nursery places are offered for 6 hours per day, Monday to Friday, term time only. Session times are from 9am- 3pm. Children are expected to bring a packed lunch from home each day.
These places are fully funded for eligible working parents using the government's 30 hours funded childcare. This is an extended offer and is only available to families who meet the government's eligibility criteria.
For families not eligible for full 30 hours funding, we offer the opportunity to pay for the additional 15 hours each week (on top of the universal 15 hours funding). This can be paid by childcare vouchers or by direct payment on account and is payable half termly in advance. The current charge is £18 per day (£6 per hour).
Please note priority is given to families eligible for the full 30 hours funded childcare. Please click here for our Nursery Admissions Policy
We aim to provide an engaging and stimulating, inclusive curriculum that excites our children and is reflective of their interests and experiences. Developing the whole child is at the heart of our ethos and our curriculum ensures our children become happy successful lifelong learners.