Specialist Centre for Deaf Children
The Specialist Centre for Deaf Children has been a part of The Mead Infant School for more than 25 years and is the embodiment of our school motto:
'Proud To Belong'
Our aim is to enable children who are deaf to participate fully and flourish in all aspects of school life.
To achieve this we provide:
a highly inclusive approach in well managed deaf friendly classrooms so that each child's learning potential is realised
a supportive, deaf aware, social environment in which they can develop friendships in peer groups of both deaf and hearing children building positive self-esteem and becoming happy, resilient and resourceful children
optimal use of hearing equipment (hearing aids, cochlea implant processors, radio aids, soundfield systems) which promotes natural language learning.
optimal listening conditions throughout the school so they consistently benefit from the input hearing technology gives and can access all learning opportunities, both academic and social
experienced, highly qualified team onsite to support language development, wellbeing and all aspects of learning
"The Specialist Centre within The Mead provides strong outcomes for the children that attend"
"The school as a whole fully embraces the presence of the centre and the Headteacher is justifiably very proud of it." Surrey Send Review February 2020
The Sunshine Room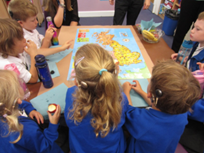 The Specialist Centre, named the 'Sunshine Room', provides a base for deaf children to learn in small groups (often with hearing friends) or have one to one sessions with the Teacher of the Deaf or Specialist Teaching Assistant.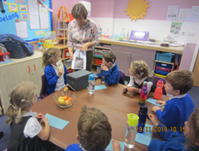 The Sunshine Room is also where deaf children's day starts. They play with deaf friends, have equipment checked and take part in relaxed, small group discussions.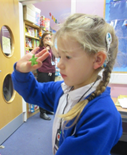 The Team
The team includes a qualified, experienced Teacher of the Deaf, Speech and Language Therapists who are specialists in deafness, and trained Teaching Assistants assigned to support deaf children in mainstream classes.
We liaise with Educational Psychologists and other members of the SEN team, (including a deaf instructor) to support children with a range of additional needs.
We also work closely with auditory implant and audiology clinics in order to maintain best levels of hearing for each child.
Facilities
Optimal listening conditions comprise:
high levels of acoustic treatment in classroom throughout the school (conforming to revised BB93 regulation for deaf children)
top quality sound field systems in every class
twice daily checks of hearing equipment
radio aids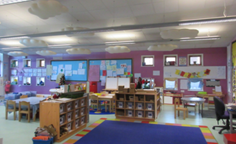 Learning at The Mead
Deaf children are first and foremost members of their class, receiving support as needed from the Specialist Centre team.
They benefit from:
learning with their peers in well-managed classes where background noise is kept to minimum levels
in class, personalised, support as needed from a specialist teaching Assistant to help them develop socially and academically and manage hearing equipment
opportunities to develop emotional literacy and wellbeing
pre/post teaching of key language and concepts
a wide range of visual resources and prompts
regular opportunities for small group and individual teaching in a quiet environment particularly for reading, writing and maths
on-going deaf awareness training for all staff, many of whom have experience of working with deaf children in their classes
Deaf awareness activities for all children at The Mead
termly Individual Educational Plans which reflect EHCP outcomes we are working towards
Careful monitoring of progress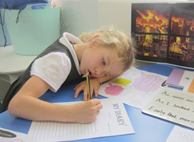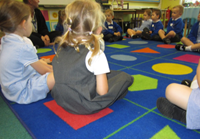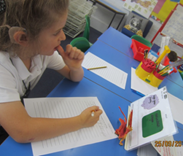 Involving Families
We maintain close links with the families of our deaf children.
A home / school book is written daily to share information.
The Teacher of the Deaf is available to contact by phone, by email or in person.
There are opportunities each term to discuss progress and new ISP targets.
We organise coffee morning / afternoon teas where the parents can meet each other and discuss a variety of deaf issues.
Placements
Most children in Nursery receive support from the specialist Centre on 'assessment placements'. By Reception year they need to have an EHCP.
Visits
You are most welcome to visit the Specialist Centre and tour the school to see what we offer.
How to contact us:
Main school office: 020 8393 0966
Specialist Centre: 020 8786 7422
Email: hiunit@mead.surrey.sch.uk
If you would like more information on deafness, please click on the following links.
NDCS – National Deaf Children's Society
RNID - Royal National Institute for Deaf People
SDCS - Surrey Deaf Children's Society
Chloe and Sophie's Special Ear Fund